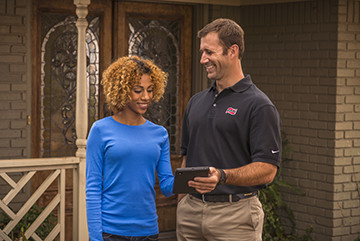 Anderson Heating and Air has been built on a foundation of honesty and integrity. Owners, Seth and Chaz Anderson, grew up in a large family that has been deep rooted in the small business world for decades. They were taught from a young age that gaining a client's trust, and always doing right by them is the only way to be successful. The brothers were raised here in Elk Grove, so where they were going to base their company was never a question. Many of you may have actually worked with one, or both of the brothers before, as they have spent many years taking care of clients for other companies in the local Sacramento area in the past. Seth and Chaz truly make a well­rounded team, they each have unique skill sets that work in perfect harmony with each other. This proves to be a huge benefit to you, the client, as they can take on any task or idea you may have.
Seth spent a big portion of his career as a service technician for a large local company, and it's there that he realized he had found his true calling of diagnostics and repair. He grew up always taking things apart just so he could see how it worked, and now he figured out how to make a career out of it. You will always find Seth researching a new product or tool, and reading every book he can find on repair and design methods. In the field though, tearing down a furnace or condenser is where he feels at home. He had the wonderful opportunity to train and assist many in the HVAC field, he always loves teaching somebody new the trade. After his time as a tech, he was asked to move to management. In this new position, he managed and directed the installation department. It was a big undertaking, but Seth loved the amazing experiences and resources he received from it. As he progressed in management, the idea of being a small business owner grew, so much so that he reached out to his employer to help him. They didn't hesitate to recommend Seth to get his own Contractors License and start his business, which is something Seth will always be grateful for.
Chaz loves and excels at building and designing things with his hands. Chaz followed in his big brothers footsteps and joined the trade as an installation helper. He had never touched an HVAC unit in his life, but he was given the opportunity to succeed at the same company Seth worked at. It didn't take long for the company to see his abilities. Chaz was a natural at sheet metal fabrication, framing, electrical, plumbing, and duct design. Within a few months he was training new recruits, and went on to be a lead installer with his own team working under his leadership. Chaz loves working with clients all day during installs, and takes his time helping clients understand the process to make sure they are comfortable with everything that's happening.
So Seth knew his new venture into business would only work if he had his brother Chaz by his side, that is how Anderson Heating and Air came to be where it is today. With the support of not only fellow tradesman, contractors, and their family, but also because of clients who put their trust in them, Seth and Chaz are pursuing their dream. The brothers are personally in the field everyday interacting with customers and working on the jobs, ensuring all their clients have made The Comfortable Choice!
Anderson Heating and Air is proud to serve the people of our local community with prompt quality service. We install Ruud products which have industry leading warranties and performance. We pride ourselves on exceptional customer service. Call 916-616-1124 today to schedule a service appointment or for a free, no-obligation consultation. We'll help determine the perfect system for your home or business. Anderson Heating and Air looks forward to hearing from you and adding you to our long list of satisfied customers.
Our team services most major brands of equipment. We've been proudly serving our local community with top of the line products, service, and maintenance for years and hope to do the same for you today!